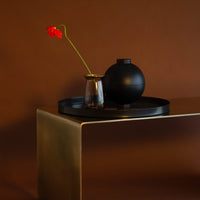 Pictured in Aged Brass and Blackened Brass.
The angularity and simplicity of the Fall Coffee Table is archetypically minimalist. The minimalists advocated that an object activates its surroundings not only through its form, but through the negative space it encloses. With this in mind, the Fall Coffee Table was designed to create visual harmony through minimal composition, enclosing balanced negative space beneath its lines and curves. This imparts a lightness to the industrial weight of this object, resulting in a restrained and versatile furnishing that embodies refined design.

The Fall Coffee Table is a durable and sophisticated addition to your living space. Its proportions ensure the perfect height for everyday interaction, and its customisable finish can suit the tones of any interior.
The Fall Coffee Table is available in Aged Brass and Blackened Brass finished with a hand wax.
Made by hand in Aotearoa from solid brass.
Please note all of our products are made to order. Please allow a 3 to 4 week lead time for this product.
The Fall Coffee Table is only available in a hand waxed finish. Due to the responsive qualities of this natural material this means the brass will mark easily and the process of patina will be accelerated.
Please email us here for any enquiries or custom orders for this product.